---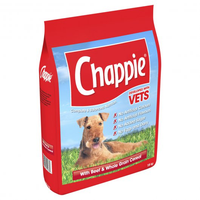 Chappie Dry Beef And Wholegrain Cereal 15kg.
Complete Dry Dog Food, Endorsed By Vets. You Can'T Go Wrong Feeding Your Dog With Chappie. As One Of The Oldest Brands Of Dog Food On The Market, The Vet Trusted Food Has Been Perfected To Provide Your Dog With A Unique, Balanced Recipe To Provide Them With A Wealth Of Vitamins, Minerals And Nutrients To Keep Them Healthy And Bouncing Around During Their Adult Life.

Low In Fat To Help Maintain A Balanced Diet. Protein Can Maintain Muscle Mass And Provide Energy. Essential Fats Encourage A Healthy And Shiny Fur Coat And Skin
Fibre Benefits The Immune System. Dry Dog Food Can Also Have Dental Benefits. The Dry, Crunchy Nuggets Help To Remove Plaque From Teeth And This Helps To Prevent Tartar Build Up, Leading To Better All Round Oral Health For Teeth And Gums, And Even Fresher Breath.